Sorry - You Are Not Really on Page 1 of Google!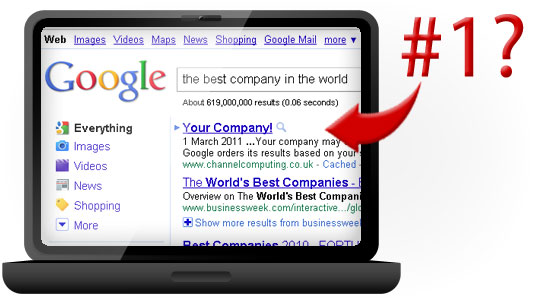 I have lost count of the number of times I have been speaking to a client on the phone when, while we are reviewing their online rankings, what they can see is very different from the results shown on my computer.
This is easily explained and fixed by removing Google Web History, but how many people are actually aware that this feature is enabled on their Google accounts and their computers by default?
What is Google Web History
If you often think that your search results are overly tailored then they probably are. Google collects information on your browsing habits every time you do a search enabling them to serve up more personalised results to suit you.
The simple fact is Google shows you what they think you want to see. You may find that your regular visits to your own website or competitors websites are skewing your search results.
From an online marketing perspective this functionality is very misleading. When researching how you are positioned in Google you need to see a standard set of results, similar to what your potential customers are viewing, not tailored to your search habits.
If you are using the online arena to generate leads and traffic to your website it is essential to make sure you disable Google Web HIstory. Otherwise how do you benchmark how you are actually performing in Google with this personalisation distorting your view?
I can see many of you throwing up your hands in horror at this 'Big Brother' aspect of Google. This can be viewed as good or bad depending on what angle you look at it, but it is a function that is here to stay.
How Do I Disable Google Web History?
Google keep a track of your search history irrespective of whether you are signed into a Google account or not. These are slightly different and can trip you up if you are not aware.
Please Note: The description below is an accurate representation of how to turn off Google web history at the time of writing. However you may notice some variables but the general process holds true. Variables can be present depending on the age of your Google account and updates to the Google interface.
Signed in Web History
How to remove your Google Web History when you are signed into a Google account:
This information is stored on the Google servers and will be the same on any computer when you are logged into your Google account.
Step 1
Sign into your Google account and click on 'Account'.
Step 2
Click on 'Web History to edit: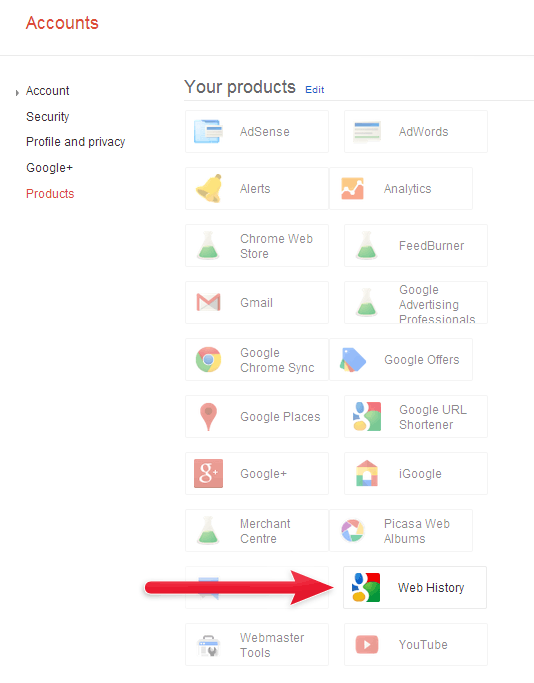 Step 3
Click on 'Settings' Button:

Step 4
This page allows you to turn off your web history completely, if you wish. This is optional, but means that Google will no longer track your searches when you are logged into your account.
You will also need to click on "delete all" to clear your web history as well.

Step 5
The next screenshot looks a bit scary, it feels like you are removing something very important. It is not, you can easily turn this function back on so highlight the tick box and click on 'Remove Web History':Congratulations, web history has now been removed from this account!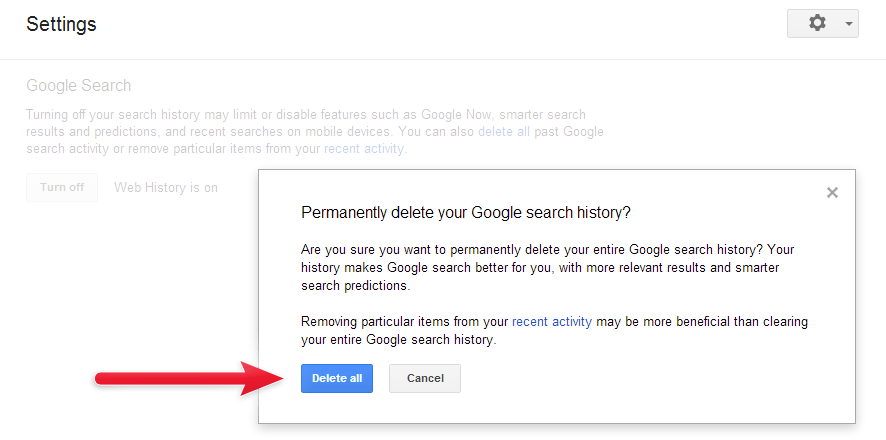 Signed Out Web History
How to remove your Google Web History when you are signed out of a Google account:
This web history is also personalised but is linked to your computer and the browser* you are using. Using cookies* which track your behaviour Google then keep 180 days worth of information about your online activity which allows them to serve up personalised results.
Step 1
First, make sure you are signed out of your Google account, then click on 'Web History' in the top right hand corner of a search result: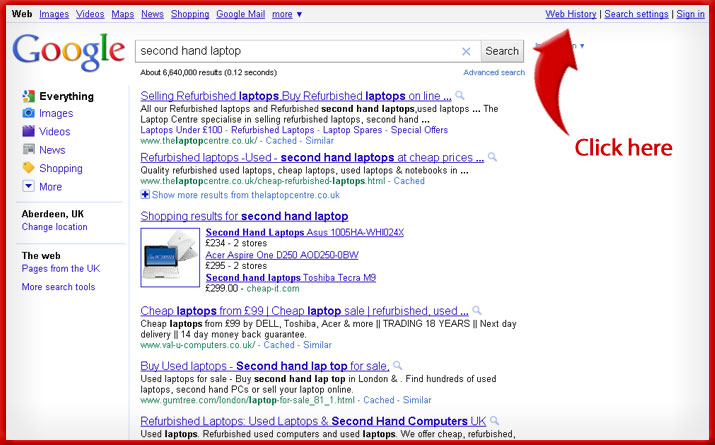 Step 2
Click on 'Disable customisations based on search activity':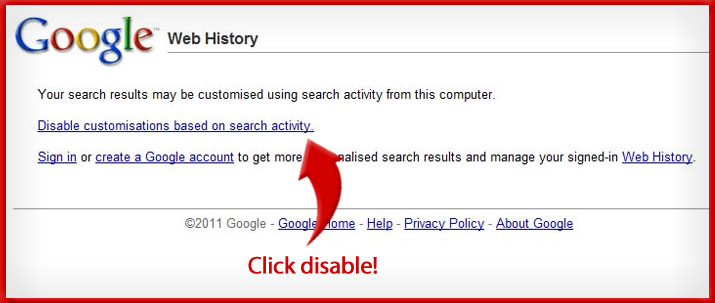 Beware - Google may re-enable your web history!
If you clear your browser cookies you will need to disable web history again as Google turns it back on. This only occurs when you are signed out of your Google account. It can be very frustrating so I find the easiest way to control the Web History personalisation is to only do searches when I am signed into a Google account which has Web History permanently deleted.
Of course many of you may enjoy these personalised results, after all they are designed to be delivering you the results you want. However when researching how you website is fairing on the Google rankings, make sure they are properly disabled. It would be a shame to be lulled into a false sense of security that you are ranking on Page 1 when in fact you are not.
Appendix
Cookie – this is a file which is unique to your computer, when you visit a website this 'cookie' is sent to the website. When you visit the site again this cookie allows the site to recognize your browser. This can also be called a web cookie or a browser cookie. You can disallow cookies but you may find some website functionality is lost if you do not allow them.