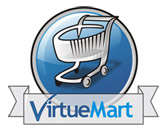 Introduction
Welcome to Channel's online VirtueMart Shopping Cart management tutorial.
Virtuemart is an open sourced online shopping system built for Joomla! content managed websites so there are already hundreds of VirtueMart guides available online. For this reason this tutorial is just a basic overview of how to manage your shop.
Further information about VirtueMart (VM) is available at www.virtuemart.net, and in the official VirtueMart User Manual, which is really handy if you are looking for something not included in our tutorial here.
Accessing VirtueMart
To access Virtuemart log into the Joomla Admin back-end, and select from the menu – Components / Virtuemart.
There is a control panel on the left hand side of the VM screen. The most likely areas that you might choose to edit are these:
8.1.1 Admin – Users
View all the registered users, see the details of a registered user.
On the user's "Shopper information" tab you could assign them to a shopper group, normally we recommend that you just use the default settings.
8.1.2 Store – Edit Store
You might go here to change your contact details for the store, or update the store's logo.
This is a sensitive area so be careful not to change anything you don't understand!
If in doubt, just call us to check first.
8.1.3 Products – List all products
Here you can edit the characteristics of a product.
This might be particularly useful if you want to say more about products, give more information, add more images, or change individual prices.
If you want to add the same image to lots of products, or alter identical text across lots of products descriptions, it might be more efficient to ask a developer to do it, as it is possible to carry out a mass-import to save time.
You can also shorten the list by selecting just one category at the top.
8.1.4 Products – View inventory
Here you can see the stock levels for all of the products in your shop.
8.1.5 Products – List categories
All products belong to a Category.
On this page you can see all of the categories currently set up on the site.
You can also add new ones from here.
8.1.6 Orders – List orders
Here you can see all orders in the system.
Click on the order number for order details.
This will show you all the details related to that order including the customers name and address.
If you change the Status of the order (from Pending to Confirmed perhaps) and check the "Notify Customer" checkbox, an automatic email will be sent to the customer telling them the status has been changed.
8.1.7 Tax
There is only one tax rate at present – UK VAT at 20%.
When this changes again you change it here, and the gross price of all products in the database is automatically re-calculated.
8.1.8 Coupon
If you want to set up some special offers, you can enter Coupon Types here.
This will give customers a pre-defined discount on a purchase.
8.1.9 Adding and Updating products
This is a little more complicated, so we recommend you refer to the "Adding/Updating Products" section of the official VirtueMart user guide here
Further help
If you require any further help with your Virtuemart shop, please don't hesitate to give us a call on 01326 567143 and we will be delighted to help.