Free Online Marketing Tools
Paying someone to market your business online can be a costly expense. However there are a number of things you can do yourself with the only cost being your time. One of these free services is a Google Place page. These are also known as Google Local Listings and Google Maps Business Listings.
What is a Google Places?
Previously known as Google Local Listings, these are business listings which are displayed in the search results alongside a map of the area. Each listing has an alphabetical 'pin' with their precise location marked on the map. The listings link through to a business website and to a Google local listing place page.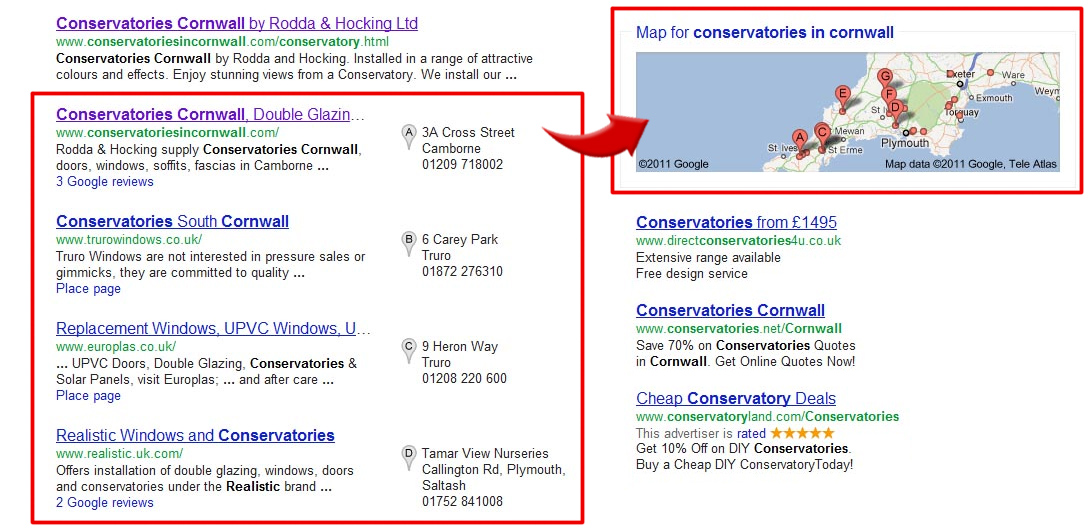 The results are normally displayed if you are looking for a type of business in a defined area. For example, if you search for phrases such as 'plumber in Exeter' or 'double glazing cornwall' you will see the Google Places listings alongside a map.
According to Google 97% of consumers search for local businesses online so this is a significant route to market for a number of businesses.
How do I set up Google Places for my business?
First step is to check what Google has listed presently for your business. Unless your business is very new, Google are likely to already have a listing for you. Go to Google Maps and do a search for your business using the business name and address.
Claiming your Google Maps Listing

Click on your business name in the Google Maps listing which will take you through to your place page. You can claim this listing by clicking on the 'Business Owner?' link located in the top right hand side of place page. To claim the listing you will need a Google account, such as a Google+, Gmail account, AdWords or Analytics account. You can use the same login for this to access the place page. If you do not have an account you can sign up for one at this point.

Login into your account and follow the instructions provided by Google and you will be taken through a process of verification to ensure you are the owner of the business. This can be verified via a postcard sent to your business address or an automated phone call providing you with a code to add to the website. During this process you will have the options to update the listing. You can also edit these at a later date once your listing has been verified.

Creating a Google Maps Listing
If you cannot find an existing place page for your business sign up at Google Places for a new one. When you login here you will be given the option to create a listing.
How do I get to the top of the Google Local Listings?
Well done, you now have an owner verified Google Place page, you have updated your details and you have added some photos. But how do you get this listing higher up? Google's algorithms for ranking websites and these local listings change regularly, but there are a number of rules that work and should help you move up the rankings:
Third party directories. Google gathers information from around the web about your business, especially from a number of authoritive directories. Make sure you are listed on key directories and your business details are consistent between them.
Reviews. Ask some of your happy clients to visit your place page and write a review. They will need a Google account to do this. Other positive reviews around the web on different directories will also be counted by Google.
Don't spam. Do not use keywords in your business title when creating the place page, use only your genuine business name. Google is likely to block your page and it can become very tiresome to get these changed and republished.
Follow the quality guidelines. Read through the guidelines before you update your listing - I have known people to inadvertently break the rules and get penalised as a result.
Add lots of detail. The more information you provide the better. For example, if you have a video about your business, upload it onto your place page.
Your own website. Pay attention to your own website ranking and optimisation. A more powerful business website indicates to Google you are a serious player which will help your Google Local Listing.
Keep it fresh. Google loves fresh content and will reward you for it. If you have a new event or a special offer you can update this on your place page. You can share an update about your business that will then expire automatically after a number of days.
In the previous year Google has placed growing importance on these map listings in the search results and it is an opportunity that all local business should be exploiting.
Please note that these details and images were correct at the time of writing. However some inconsistency might result as Google regularly update their user interface.