How to Content Market Successfully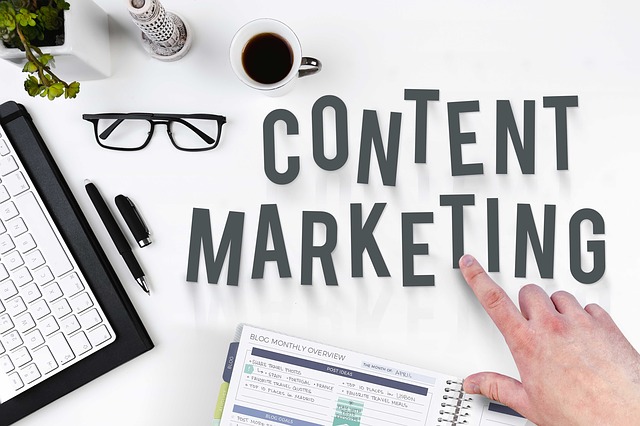 Let's be honest here. How many people enjoy being marketed to?
Do you ever feel stalked when adverts follow you around on your social channels, or flash up on websites you visit? How much does this turn you off that brand?
Conversely, what about the brand that is always offering free resources, knowledgeable information or fun and interactive content?
Which brand are you more likely to purchase from when you are ready to buy?
Understanding this must be the key to defining your content marketing strategy and plan. It should always be about adding value and never about straightforward selling your services or products. Of course, your objectives still need to be met, but you will meet them so much quicker if you build the relationship and trust first, before thinking about that conversion, or sale.
Before you launch into a content marketing plan, it is worth defining your strategy and objectives. Below is an overview of how to approach this, and a few tools to get you started or review your existing approach:
Your Goals
Improving revenue and sales
Gain influence and authority
Succeed in SEO (Search Engine Optimisation) – with a knock-on effect of gaining more visitor traffic to your websites.
Reduce your PPC costs
Increase social media engagement
What Defines Success?
It is important to map out some KPIs. Keeping track of what works and what does not. Keep learning and be agile in your approach. Goals we regularly work to include:
Increase website traffic
Improve web page rankings for known search terms
Increase email subscribers
Increase generated leads
Hit a revenue target
Increase user engagement
Improved marketing expenditure by reducing CPA
Your Strategy
With your goals defined and your KPIs mapped out, you have the beginning of a content strategy. Your content marketing plan will need to align with your:
Overall message and tone of voice
Target your audience needs
Be authentic and transparent
Your Target Market
Know your audience and their demographics and where they spend their time online. What Social media channels do they use? You can find a wealth of information about your existing audience in Google analytics (Audience – Demographics) and in social media insights. Ask for feedback from your customers, what have they liked about your other content and what they would find helpful in the future?
While analytics and customer research will tell you a great deal about your existing visitor, and customer, there may also be significant opportunities among user groups that still aren't finding you. One of the functions of Keyword research is to look at people who are searching for what you do, in your area of operation, but still haven't found you yet. These people may be your biggest opportunity.
Getting Started
Content Audit
Perform an audit of your current content. Look at what has worked in the past, and helped you meet your KPI's.
Free Tool:
Screaming Frog SEO Spider Tool: There are several good tools to use for this, including Screaming Frog which has a free version which will review 500 URL's.
With a list of your content including URL's, identify any gaps in your content. This may include
Important keywords in your niche
Frequently asked questions not covered
Old content that needs updating
Keywords
You will probably have defined your keywords strategy in the past, but it is useful to go back and review this area to spark new ideas.
Review traffic generating keywords for your website in Google Analytics and Google Search Console – are there keywords that are hovering on page 2 of the SERPS. These could have significant impact on traffic if moved up to page 1.
What hashtags have worked well for you on social media?
Have you added any new areas of business to your core offering?
What about changes and trends in your industry. Has there been growth in different countries and or languages you could be targeting?
Free Tools:
Google trends: Can be used for comparative keyword research and powerful for identifying new markets

Includes a whole wealth of information displayed in map format and gives information ideas. Research your own niche area here.

Keyword Tool: Look at a competitors domain, review back links, keyword and content ideas - research here.


Answer the Public: Short of ideas of what content to write about. Plugin a keyword to this tool and you will have a whole host of ideas for content creation: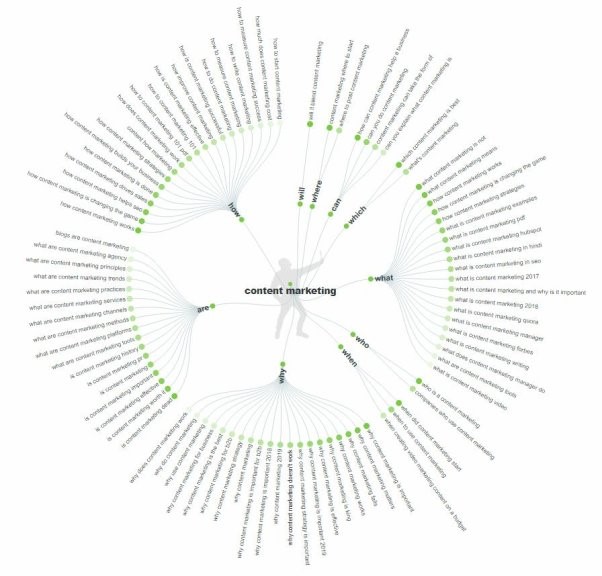 Types of Content
With a list of areas to build content, it is time to get creative. It is important to create a healthy mix of content to reach the widest audience you can.
Experiment with different types of media, mixing up the content and reviewing what you have achieved later on, in order to see what works for your particular audience. Remember that no one size fits all. An understanding of your audience, their interests and needs, will strongly influence the type of content you need to create and the channels you will feed the content through too.
Video
There is no denying that video is dominant in 2019 and the demand is growing. Whilst short video (less than 2 minutes) tend to work the best, it is worth experimenting with a variety of formats and lengths and keep reviewing what works.
Podcasts
There has been a huge growth in this area and it can be a great showcase for your business.
Interactive Content
Perfect for helping to increase engagement. Provide a checklist, ask questions, create a game. Live video on social media platform allows you to answer questions there and then, allowing you to personalize content for your own audience. Ask your followers what they want to read about on your social stories or use Survey Monkey to get feedback via email.
Blogging
And other traditional content articles. Remember there are still many users who would prefer to skim an article then watch a 5 minute video. Organic visits are likely to still be a significant part of your website traffic. Ignore this at your peril.
Case Studies & Interviews
A great way to let a user know how your business works. Done in conjunction with a customer or a complimentary business, you can benefit from exposure through their audience network. You could build up a number of informal video stories on your social channels that could be grouped together as a full case study and shared on other channels.
Ebooks and White Papers
Detailed and valuable content for your audience. This will allow you to collecting lead information from the users who download/view the content.
Images - Memes and GIFs
Make a statement with eye-catching imagery.
Guest Posting
This can be done two ways. Invite an expert to write content for your website, or offer content to another website that is a complimentary businesses in your area. Ensure you have a link pointing to your own website when offering content to others, this helps build up your website page rank which will help your search engine rankings. Using both businesses social channels to share this content will double your reach.
PR
Offer expert commentary and content to news publications both on and off-line. Again, ensure you have links pointing back to your website to improve page rank.
When creating your content remember to include your whole team, not just the marketing team. Every team member has valuable resources and different ways of communicating and varied knowledge. This can often be the most valuable content of all. Rather than marketing material wrapped up as value content, it often comes from a deeper and more intrinsic part of the business. It has the potential to be the most valuable content.
How to make the most of your content
Meet your audience where they are. On what platform do they take actions to interact with you? Where can you tempt them to ask questions or sign up for more information. What is a typical user journey for your target audience that are then converted to customers? Understanding all these questions will help you have a clear strategy of how to best use your content. The following channels will probably all be useful, with different businesses having different priorities:
Website
Social Media
Listing sites
Video Platforms
Influencers
Search engines
Voice search
Podcast providers
Historically, we would encouage all the main content to be on your website, and place social and other links pointing back to the content. With the premise that your website is where you are going to get a user to take the next step to interact with you and make a conversion. However today, whilst this still is valid for most businesses, it is much more fluid. For example, a business based around an online community, may focus more of their effort on content that is published on their top social channels.
Conclusion
Creating an effective content marketing strategy is an essential part of any businesses marketing activity. It builds trust, demonstrates knowledge and will lead to new conversions for your business.
If you would like to find out more about how to make content marketing work for your business, we are very happy to help. We have a flexible approach for supporting our clients to achieve their goals, including defining your strategy, training your in-house team, and providing a full service content market offering. To find out more please contact us.