Google Page Experience Algorithm Update


Speeding up your website became even more important – now it matters to Google as well as your visitors.
Google likes to keep the website owner on their toes, making changes to their ranking algorithms which we have to respond to if we want to keep good rankings for our website. Google's new update is called "Page Experience" and is made up of "Core Web Vitals", or basically how fast your web page loads for a visitor.
In truth these changes are about making the internet a better overall experience for all its users. For a long while Google has been encouraging faster loading websites, and canny website owners have already adapted. But going live on Google right now are the changes which make this pretty much compulsory, and start pushing slow loading websites, and others with poor user experience, down the rankings.
What is 'Page Experience'
Google's new ranking factors are based around a website's 'Page Experience', a measure of users' experience of your website. Some elements of page experience are hard to measure ("emotion" for example), but some can be measured, and it is here that Google is starting.
As google explains; "The page experience signal measures aspects of how users perceive the experience of interacting with a web page. Optimizing for these factors makes the web more delightful for users across all web browsers and surfaces, and helps sites evolve towards user expectations on mobile. We believe this will contribute to business success on the web as users grow more engaged and can transact with less friction."
In simple terms, it is analyzing how user-friendly your website is.
How is this measured?
In Google Search Console we have a relatively new experience tab which highlights good and bad URLs. This is a free Google service that any website owner can use.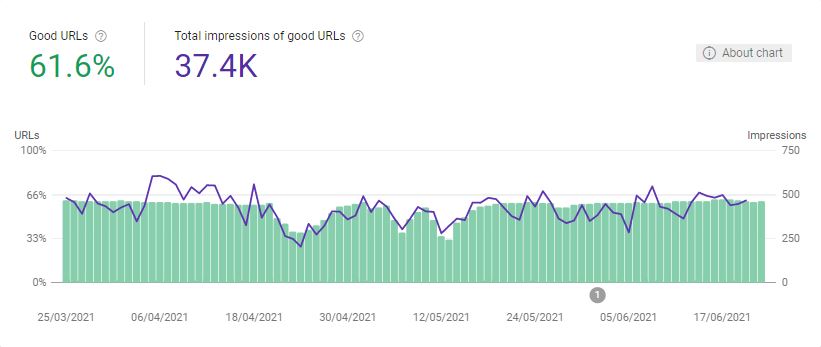 These are analyzed using a variety of metrics including:
Core web vitals: This is measured for both mobile and desktop and google will flag up issues they have identified. Key in this metric is page speed but also includes how the page loads and if items move around whilst loading, which can be very annoying to the user.
Mobile usability: How mobile friendly is your website. We often see issues with clickable elements too close together and content that is wider than the users screen.
Security: It has been almost compulsory to serve websites on encrypted "https" URLs for 2-3 years now, since Google started putting security warnings in the Chrome Browser for non-encrypted websites. This is now bundled as part of the Page Experience offering in webmaster tools.
What can you do about this?
The job of your web designer should be always to provide the best possible experience for your visitors. But now they must specifically speed up the website page load until all of your pages are marked as "OK" in Google Search Console.
Make sure your website is lightning fast
Aim for less than 3 seconds on both mobile and desktop, but aim for faster! This links up closely with the mobile experience. Slower mobile connections can cause havoc with a slow website. Every business is different, but virtually all will have seen significant growth in their mobile traffic over the last few years. There are a range of measures that your web designer can take to speed up the website's loading speed. These include better optimization of images, changing the way the page loads its scripts, CSS files, changing the way browsers cache or compress certain types of file associated with loading a web page. There are also improvements that can be carried out on the web server itself, different hosting configurations, optimizations to the database tables, running "clean up" scripts.


Consider using a "CDN"
Services called CDNs ("Content Delivery Networks") such as Cloudflare or Akamai can also be used both to block bad traffic and bots, optimize parts of the web page and speed up its delivery to your visitors - especially if they are spread across a wide geographic area. This can be detailed work on a slow-loading website, and especially on slow performing servers, but it is important for both your users, conversion rates, and for Google that this work is done correctly. Cloudflare even has a free plan for single websites, though their paid plans include more features that speed up the web page load. A CDN is not a magic pill, however, and can cause blocked access along with another point of failure, potential security issues, and no guarantee that one will actually speed up your website load times.


Testing your page speeds
Tools such as PageSpeed Insights, and Lighthouse from Google help you understand the speed of your website load. If the score isn't over 90% you have work to do. You can test your website for free here:
Clean up any 4XX errors
404 and similar web page errors are seen when there is a broken link, or missing page. Too many of these represent a poor experience. Keep on top of any website errors and fix them promptly with a simple redirect.


Compare your own website to your online competition
What are they doing that works well? You can review the keywords they rank for and analyze why they are winning for those words. Are they answering a question clearly? Is it easy to find the information? Is the content set out easily?


Is your website responsive? It needs to be.
A responsive design is one that gives a different layout on a mobile device. This is important for mobile users as a desktop layout cannot work well on the small screen. And most websites now have more visitors from mobile phones than desktop PCs. There's a couple of free "Responsive" checkers you can try here:
Create a website heatmap
Where are your users getting stuck on your website? Some web designers use tools such as "HotJar" and "LongStory" to see how visitors are interacting with their websites. Tools like this in the right hands can help you incrementally improve the experience, conversion rates, and sales from your website.
Here is a proposed programme for making sure that your website really does deliver an excellent page experience for your visitors.

Stage 1: Get your page experience right

Use Google search console to show you what needs to be done to your website, and work with your web designer to ensure that the website is loading fast. All the "Core Web Vitals" measurements should be green, or good, in Search Console. And the page speed / lighthouse score should be at least 90%. Your pages will load in – hopefully well under 3-4 seconds and you will be well paced for stage 2.

Stage 2: Move on to best-practice web design

Your web page design needs to be working well. The site should be "responsive" so it works on mobile devices. Also pay attention to "Accessibility", which is the ability for people with disabilities to easily use your website. Many of the best practice features for accessibility benefit others though, so for example easy to read text which benefits the older visitor, is also good for improving retention and conversion among other visitors to your website.
A poorly designed site with sub-optimal user journeys will neither help you generate business, nor give a good impression of your company.
Stage 3: Optimize and continually improve
Now you have the basics in place, you are in a position to really start improving, and marketing to your visitors. Using Analytics tools you can develop a deeper understanding of your users journeys, what are they trying to achieve and what can you do to make it easier for them. Optimizing for visitor traffic growth will now be more successful, now your site is working well. A well place SEO programme will bring more visitors from Google. PPC Ads can bring them faster but must be well managed - when you are paying for visitors like this you need good tracking and an effective conversion process to be able to turn a profit. And the way you use Social Media, whether it engages with the right people, and whether they come to your website to find out more and transact with you. All of these areas can bring you visitors and customers if well carried out.
But you're working on a firm foundation so these advanced efforts to Optimize won't be wasted.