Website launch: Techneopro

This week brings the launch of Techneopro's new website! Techneopro specialise in the contract manufacture of sponge neoprene products,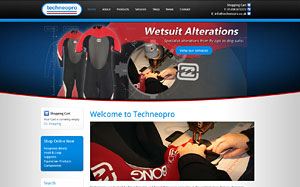 one of which you may recognize are our very own Dickybag! Techneopro not only make and sell Neoprene sheets and all of its variations, but also offer a fantastic Wetsuit repair service, Medical Supports and Bespoke designs.
Like many growing businesses, Techneopro had a website that was starting to look rather outdated as the company grew and time went on, so they came to us for an update.
We started off by cleaning up their logo whilst staying true to the original, and from this developed a complete new look for their website.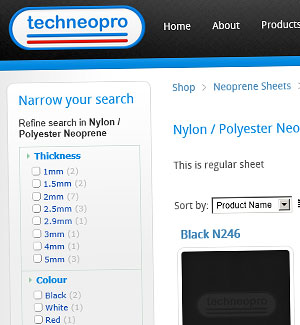 Techneopro also wanted the new website to be able to take orders online so we provided them with a fully working online shop integrated with their Paypal account. The shop is fully stock managed and emails them stock level alerts whenever items need restocking.
Enhanced Product Filtering - the 'Cherry Picker'
The shop also features a rather handy "Cherry picker" type of product filtering, much like you will see on Amazon. As Techneopro sell various Neoprene sheets with lots of different options (Such as thickness, colour, inside colour and price), the cherry picker allows customers to easily sort through all of the products to find the exact options they need.
Other features
The new Techneopro website also features a host of other great features including;
A professional and slick layout
Low stock email notifications
Realtime Site Search
Online shop with Paypal integration
Stock managed products
Click the link below to see the website;