Using Facebook for Business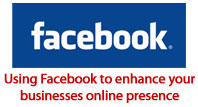 WITH APOLOGIES THIS EVENT IS NOW FULL
(Please drop us a line if you would be interested in similar events in the future)
Channel will be partnering with the Falmouth Chamber of Commerce to give a presentation on using Facebook for business on Monday 21st in the Falmouth Hotel, at 6pm.
The presentation will be made by our Technical Director Peter Graves, who is well known for his popular internet marketing courses throughout Cornwall.
If you are interested in finding out more about using Facebook for business, using it to generate buzz, community and enquiries around your business, and making sure you use it well, please feel free to come along.
Book your place
The event is open to all businesses in Cornwall, but please contact Chamber Chairman Jeremy Edwards if you would like to book a place, on 01326 318900, or email This email address is being protected from spambots. You need JavaScript enabled to view it. so that we have some idea of numbers for the event.
There will also be some refreshments and relaxed networking afterwards, so it should be a pleasant evening.
We will be done by about 8pm.