Our newest recruit (well, maybe not so new...)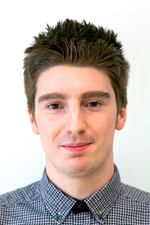 We are delighted to welcome our newest permanent team member – Luke.
Luke has been working part time for us since 2010, alongside studying for his BSc (Hons) Degree in Digital Art and Technology at the University of Plymouth. Luke has now finished his studies and we are delighted that he has agreed to join us on a full time basis. Luke is our graphics and Photoshop genius and is also very handy with Joomla, Wordpress and both lead and rhythm guitar. (he plays in some very respected rock bands in Cornwall and all over the Southern half of England)!
"I've been working for Channel over the last two years in between studies and frankly couldn't wait to finish my course so I could join them in a full time position. Channel have provided me the perfect environment to develop my skills and I'm looking forward to being a part of the team as the business grows from strength to strength."
You can follow Luke's adventures at Channel on his Twitter account!