Channel is moving to new offices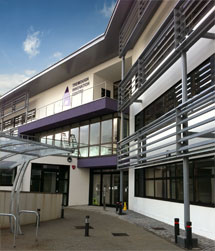 We are very excited here at Channel that we are moving in to brand new offices at the soon-to-be-complete Tremough Innovation Centre, up at the Tremough Campus of the Combined Universities of Cornwall, in Penryn.
We will be moving on January 30th and will be issuing our new contact details to all our friends and clients then, as well as entertaining the Falmouth Business Club and Chamber members at the new building.
At present the Innovation Centre is still having the finishing touches put to it, but we have been able to have a look round and attach a couple of photos here.
The Innovation centre is part of Cornwall's ongoing development plans, having being funded by the EU through the Convergence programme. Among its many features it includes:
Low Carbon building
Cafes and shared meeting areas
Superfast broadband connectivity
IP telephony
State of the art design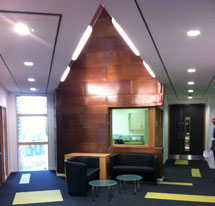 As many of our clients know Channel Computing (Now renamed to Channel Digital) was founded in January 2007 by Peter Graves and Anna Barrington, who initially worked at their home in Penryn, Cornwall. Since then it has grown to a team of 7 programmers, designers and web marketers, but has always been based in a building which was part of Pete and Anna's house.
This has become a limiting factor during 2011 as there has not been room to grow the team in response to increasing demand for our services, so the move to larger off-site offices is an important step in the growth of the company, and will make a great difference both to the way in which we operate, and our ability to continue to satisfy and exceed the requirements of our clients.
We look forward very much to inviting our friends and clients to look round the new offices once we have moved in, and to using the opportunity to continue to enhance what we can achieve for our clients.